Dance Lessons Victoria
Looking for some fun dance lessons in Victoria? Salsa Moderna offers many kinds of Latin dance lessons including Cuban Salsa, Bachata, Rueda, Kizomba, and Semba.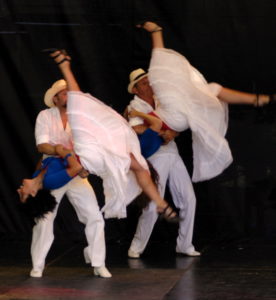 Our school of Latin dance has operated in Victoria, BC since 1995. Founder, Bernard Henin, has trained internationally and developed high-level skills in dance and choreography from well-known dance masters. He  regularly participates in international Kizomba and Salsa festivals. The school teaches all levels – from beginners to advanced and performance dancers. Our style is elegant and very fluid. All of the dance moves are easy to lead and follow.
Whether you come alone or bring a partner, we invite you to try our dance lessons. At the advanced level, you may consider taking performance classes. You may even consider auditioning for our performance group. The dance group regularly performs at local festivals, fundraisers, and other events. Some years we organize a dance tour to Cuba to explore the country's exotic dance and music scene.
Whatever you decide, you will not be disappointed. You will learn to smooth and refine your dancing as well as improve creatively. Learn more about the exciting styles we offer.
Cuban Salsa, rhythmic and intricate, has both Latin and African influences.
Kizomba, smooth and sexy, originally comes from Angola. It is now danced on all continents.
A brief history of Latin dance
Latin dance has its origins in Latin American, European and African influences. The roots of Latin dance run deep with  history. Europeans were first recording indigenous dances in the sixteenth century. These dances often depicted stories of hunting, agriculture or astronomy. European settlers began to colonize Latin America and the Caribbean, reinventing local dance traditions, and introducing African rhythms. Catholic saints, African deities and their stories merged into the dance as more settlers arrived.
The new Latin dance styles encouraged musical appreciation and enabled more social integration. Latin dance styles then evolved and adapted to modern urban lifestyles.The Caribbean region, at the crossroads of cultural influences, became the birthplace of Salsa, Rumba, Cha cha cha, Bachata and other Latin dances. Out of Brazil came Samba and Bossa Nova. With globalization, these dances and new African dances such as Kizomba and Semba spread to much of the world.